Travel Checklist & Tips
Pre-Trip Checklist: What To Do the Day Before You Travel
The day before a big trip, I freak out a little. I run around madly throwing clothes in the wash, searching for headphones and straightening piles of mail. Sound familiar?
Here's a better way. Use our pre-trip checklist to make sure everything gets done the day before you travel.
Pre-Travel Checklist: Your House
Water your houseplants/garden plants. If you have a house sitter or neighbor coming to check on them, leave them clear instructions.
Inspect your yard. Is the garden shed locked? Is everything put away? You don't want to extend an invitation to thieves by leaving a ladder or tools in plain view.
Clear the fridge. Eat or toss leftovers and perishables. If you're going on a long trip, you may want to clean and unplug the fridge to save energy.
Check the pantry, too. Rotting potatoes smell unbelievably gross. If onions, potatoes, garlic or other items have been sitting around too long, toss or compost them before you leave.
Take care of your pets. If your pets are staying in the house while you're gone, make sure they have fresh food and water, as well as clean litterboxes or cages. Scan the house to make sure they can't get into anything dangerous. Leave detailed instructions for your pet sitter.
Contact your alarm company. If you have a security system, let them know the dates you'll be gone, as well as the name and number of a house sitter or neighbor.
Set a timer for your lights. Another burglar deterrent is a Fake TV, which is a little plug-in device that simulates the flicker of a television.
Notify your credit card companies of your travel plans. Otherwise, they may mistakenly flag your card for fraud if they see it being used in another country.
Wash, dry and fold laundry. Don't forget that last peek into the washing machine.
Share your travel plans and a house key with a trusted neighbor or friend. You never know what might happen while you're gone, so it's wise to give at least one person access to your house.
Program your thermostat. Set the heat to at least 50 degrees (to prevent pipes from freezing) and the air conditioning to 85.i
Turn off your water heater, or set it to the minimum temperature. If you're a morning-shower person, you can wait to do this until just before you leave.
Unplug appliances, such as your toaster and coffeemaker.
Close the blinds or curtains. This makes your house more secure and helps regulate the inside temperature.
Pre-Travel Checklist: Trip Essentials
Check your prescriptions. Do you have enough prescription medication to last for your entire trip (plus a little extra, just in case)? If not, call the pharmacy ASAP. The Allianz Travel 24-hour assistance hotline can help you refill prescriptions overseas, but it's much simpler to do it before you leave.
Double-check your boarding passes and itinerary. I once stood in an airport check-in line behind a distraught family that had purchased their tickets for the wrong day: June 12 (6-12) instead of December 6 (12-6). Don't let this happen to you!
Check travel requirements for your destination. If your destination country requires certain vaccinations, visas, an arrival tax or a specific number of free pages in your passport, you want to know that before you leave. Check our interactive map for the latest information on travel requirements and entry restrictions for international destinations, including COVID-19 testing, vaccination policies, necessary travel documents and quarantine periods.
Put your passport in a safe place. You don't want to be frantically hunting for it right before your departure. You may want to put it in the same place as your other last-minute essentials: sunglasses, phone charger, etc.
Print all of your travel info/documents. Don't rely solely on your phone or other device for directions, reservations and other crucial information! Batteries die, and electronics get stolen.
Scan or photograph your passport, driver's license and credit cards. This can help you get replacements more quickly, should you lose the originals.
Read your travel insurance documents. We know it's not exactly thrilling, but it's so important to read through your policy so you know what's covered and you understand what you have to do to file a claim.
Purchase travel insurance, if you haven't already. Even if you're leaving the next day, it might not be too late to protect yourself and your trip! You can purchase travel insurance any time before the date of your departure, although your plan choice may be limited if you wait until the last minute. If you want a plan that includes valuable trip cancellation and trip interruption benefits, as well as benefits for existing medical conditions, you'll want to purchase travel insurance as far in advance as possible. (Read more: Can I Buy Travel Insurance After Booking?)
Withdraw some cash. Small bills are useful for tipping.
Check your bank balances. Make sure your bank account and credit limits are prepared to handle your vacation spending.
Schedule a ride to the airport, if necessary. Cab and ridesharing services will often let you arrange a pickup in advance.
Sign up for STEP. The Smart Traveler Enrollment Program, run by the U.S. Department of State, helps the local embassy reach you in an emergency.
Check in for your flight. If your airline allows you to check in online, go ahead and do it. You can also pre-pay for checked bags.
Charge all of your electronics. No one wants to stand elbow-to-elbow with strangers at the airport charging station.
Download useful travel apps. Number one on your list should be the free TravelSmart app from Allianz Travel, which can guide you if you experience a travel emergency and help you manage your travel insurance plan. Other ideas: apps for navigation, translation and even guided meditations for serenity on those bumpy flights.
Pre-Travel Checklist: Your Baggage
Need help deciding what to pack? Read this: Travel Checklists for Every Vacation. Once you've gotten everything stowed in your bags, do these eight things.
Photograph the contents. This makes it easier to file a baggage loss/delay claim, if anything happens to your stuff.
Check your luggage tag and identifiers. Are your bags marked with the right info? Are they easy to spot on the baggage carousel?
Inspect luggage for problems. I recently experienced a double zipper failure as I was packing to fly home from Portland. The not-so-elegant solution: wrapping the suitcase in pink duct tape.
Check all the pockets. If there's a forgotten pocketknife or even a corkscrew in your suitcase, you could get delayed by a TSA inspection.
Weigh your checked bag. If it's more than 50 pounds, you may be charged an extra fee.
Take it for a spin. Can you lift your suitcase and lug it upstairs? Find out now, before it's too late.
Measure your carry-on. Airlines are strict about size. Check the carry-on requirements first.
Take a deep breath. If you tend to get a little anxious about packing, just remember that you can replace almost anything you forget. As long as you have money, identification, travel documents and travel insurance, you'll be fine. Bon voyage!
Transportation
We offer private or shared transfers from and/or to:
– Punta Cana International Airport (PUJ) 
· Santo Domingo International Airport (SDQ): 
Santo Domingo (Shared Transfer)
Refund Policy
Tickets are non-refundable. If a person cannot attend due to a COVID-19 illness,
or emergency, our team will consider forwarding the value of the pass for a future year.
Covid-19
ENTRY REQUIREMENTS TO THE DOMINICAN REPUBLIC
As of April 23, 2022, all passengers and crew members do not need to present a COVID-19 Vaccination Card, PCR, or antigen test to enter the Dominican Republic or to enter tourist centers, any establishments or to receive services such as excursions.
US CITIZENS DO NOT NEED A NEGATIVE TEST TO TRAVEL
All U.S. Citizens do not need a negative COVID-19 test to enter the Dominican Republic and return.Non-U.S. Citizen, Non-U.S. Immigrants
Proof of Vaccination
REQUIRED
Air Travel: All non-U.S. citizen, non-U.S. immigrants traveling to the United States by air are required to show proof of being fully vaccinated against COVID-19. Only limited exceptions apply. Learn more about this requirement and accepted vaccines.
If you are not fully vaccinated and allowed to travel to the United States by air through an exception, you will be required to sign an attestation (legal statement) before you board your flight to the United States stating you meet the exception. Depending on the type of exception, you may also have to state you have arranged to take certain protective measures.
For more information see Requirement for Proof of COVID-19 Vaccination for Air Passengers.
What Does my Pass Include?
Your Full pass includes:
Access to All Workshops (not including Master classes separate cost)
Access to All Shows
Access to Ballrooms for Nightly Dancing
Access to Day Parties & VIP Events
Hotel Accommodations
All Inclusive Drinks, Food.
Access to Beach & Hotel Pools & Facilities
Why is your experience so unique in the sheer paradise of the Dominican Republic?
Barceló Bávaro Palace***** is one of the top luxury resorts in Punta Cana, designed specifically for people who love constant sunshine, the gentle sound of the Caribbean breeze whispering through the palm trees, and beautiful crystal-clear waters with a coral reef. The resort is located along one of the top 10 beaches in the world according to National Geographic and Tripadvisor.
Relaxation is guaranteed in this paradise with our B-rooms with views, as they offer state-of-the-art technology and absolute comfort.
The ample offering found at one of the best all-inclusive resorts in the Dominican Republic not only allows guests to enjoy themselves, but to also cherish unique experiences, such as tasting Dominican cuisine or savoring international specialties in our 11 restaurants.
Guests can also take advantage of various water sports such as scuba diving, snorkeling, kayaking, and windsurfing. There are also a multitude of facilities for athletes, an exclusive spa for those looking to relax, as well as a 24h casino, 2 nightclubs, The Lakes Golf Course, an Escape Room, Shopping Mall, professional soccer field, semi-professional baseball field, and nightly shows for those with plenty of energy during the evening.
The only thing that guests at Barceló Bávaro Palace need to think about is waking up in a tropical paradise and choosing between the most pleasant form of relaxation or an exciting range of activities. Enjoy our all-inclusive resort that forms part of the magnificent Barceló Bávaro Grand Resort, made up of Barceló Bávaro Beach – Adults Only and the Barceló Bávaro Palace.
Food Options at the Barcelo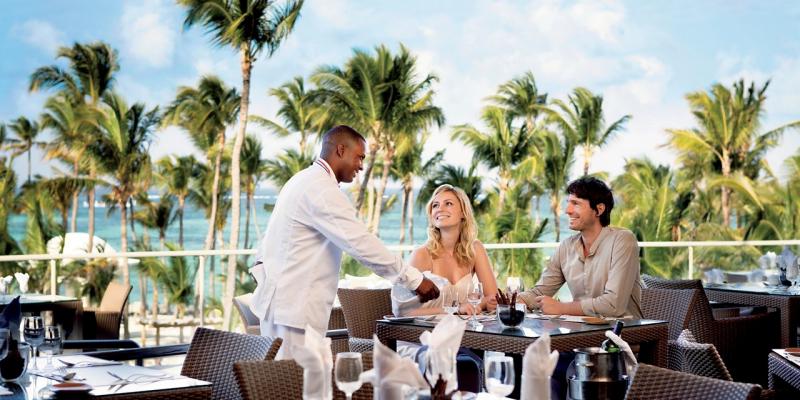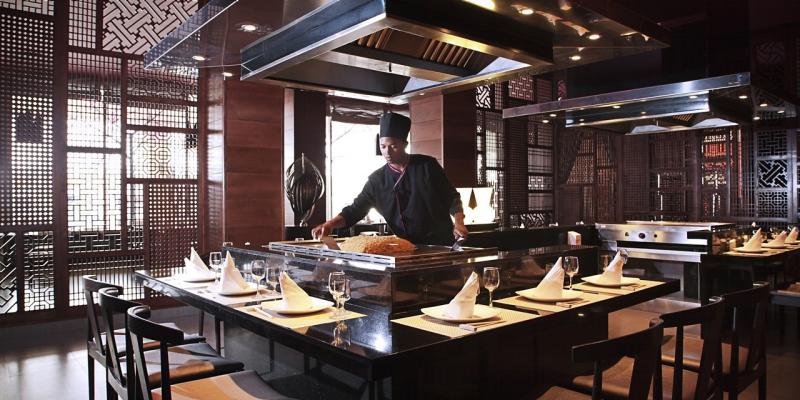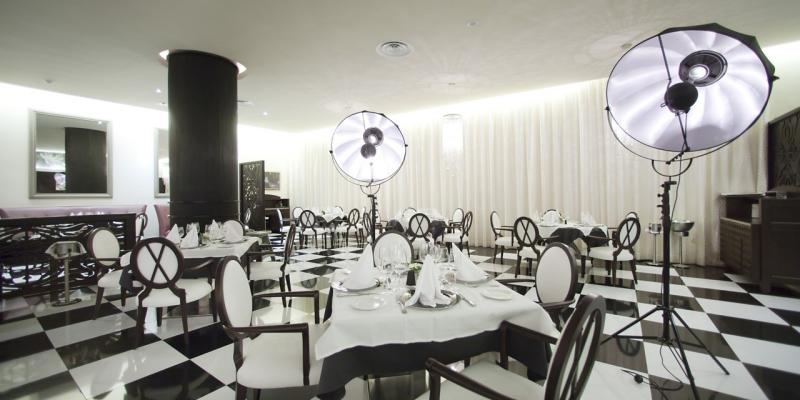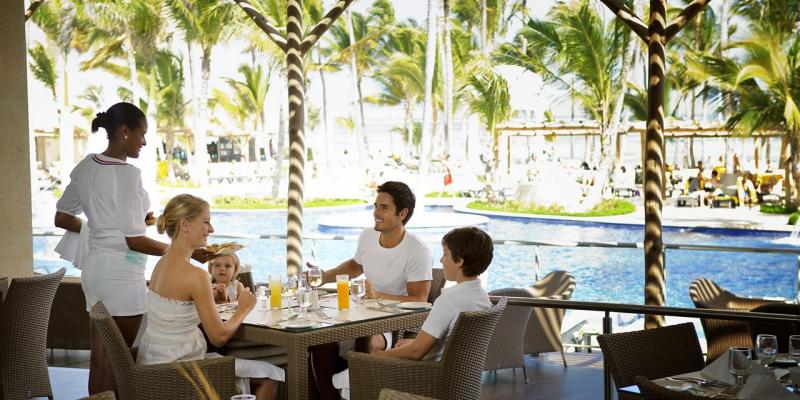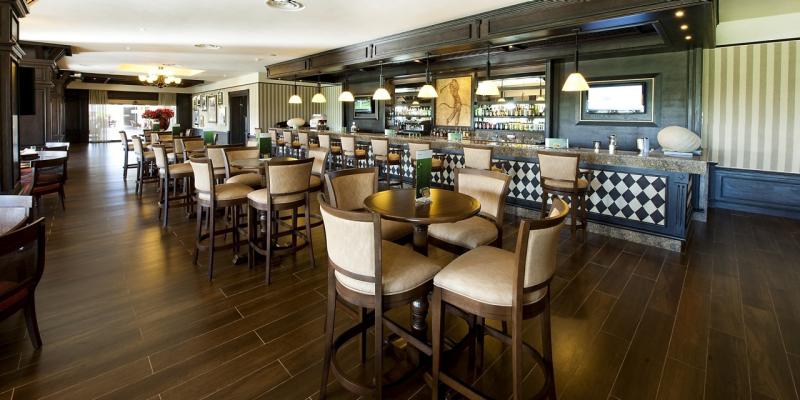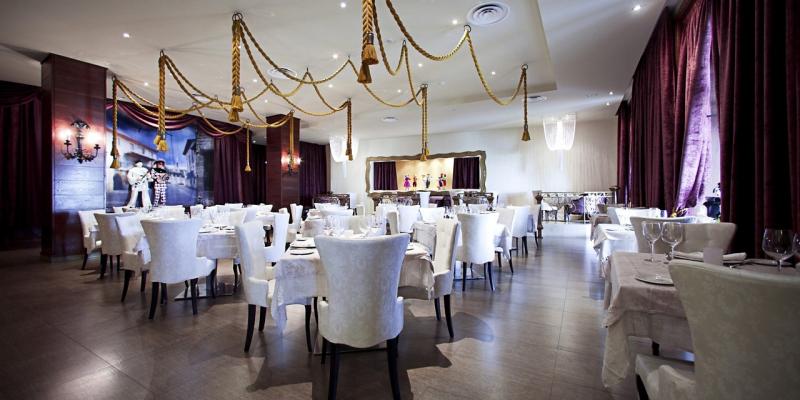 Barceló Bávaro Palace has 8 à la carte restaurants, 3 buffets, 14 bars, 2 private cavas. Throughout its facilities, the hotel offers an unmistakable gourmet experience where it will be transported to different parts of the world, from the minimalist Japanese tradition to the fascinating flavors of Mexico, passing through unique experiences of Spanish or Italian cuisine, the fun and atmosphere of a steak house or the peculiarity of the fruits of the sea, not to mention the exquisite Dominican food and impressive international diversity of its buffet.
Also, for an additional cost, you can enjoy the majesty and elegance of the spectacular French restaurant, La Comedie, which Premium Level guests can access at no additional cost. The hotel also has Cava for private dinners (additional charge applies) to complement the varied cuisine.
Quite simply, there is no other in the Caribbean restaurants that rivals the Barceló Bávaro Palace.
· Guarantee of 4 à la carte dinners for each week of stay. Additional dinners subject to availability (except Premium Level guests who enjoy unlimited dinners).
· Reservations must be made during the stay, à la carte reservations cannot be made prior to arrival (except Premium Level guests).
PREMIUM Level Clients:
You can make bookings at all restaurants prior to your arrival at the hotel by email: bavaro.palace.premiumlevel@barcelo.com.
Unlimited restaurant reservations during your entire stay.
Dress code
Informal: Formal shorts or Bermuda shorts, shirt or short sleeved shirts and sandals (not rubber material) are permitted. Beachwear is not permitted.
Applies to: Casino (the use of a hat is not permitted), nightclub, breakfast and lunch in buffets and Hoyo 19 restaurant.
À la carte restaurants:
Dress code: Formal
The Coral Sea Food: Fish and Seafood – 6 pm – 11 pm
La Dolce Vita: Italian – 6 pm – 11 pm
Mexico Lindo: Mexican – 6 pm – 11 pm
Kyoto: Japanese – 6 pm – 11 pm
La Fuente: Spanish – 6 pm – 11 pm
La Comedie: French – Subject to charge for guests with no Premium Level services – 6 pm – 11 pm
Formal Dress Code
Gentlemen: Long pants, sleeved shirt and shoes or sandals (not rubber material). Beachwear and shoes are not permitted. Applies to all the à la carte restaurants with the exception of Hoyo 19, Santa Fe and Coral. Subject to prior reservation at the Customer Service or Premium Level Lounge.
Dress code: Semi-Formal
Santa Fe Steak House: Meats – 6 pm – 10: 30 pm
Hole 19 Golf Bar: American, located in the Lakes golf course section – 7 pm – 11 pm
Gentlemen: Formal or bermuda shorts, sleeved shirt and sandals (not rubber material). Beachwear and shoes are not permitted.
Applies to à la carte dinners in: Hoyo 19, Santa Fe and Coral. Subject to prior reservation at the Customer Service or Premium Level Lounge.
Strikers Sports Bar 24 hours
Snack Bar, American Style 24.00
Dress code: Casual
Breakfast: 5: 00 am – 10: 00 am
Buffet lunch and dinner: 11.00 – 05.00
19 Hole Golf Bar
À la carte restaurant
Dress code: Semi-Formal
Prior booking is required for dinner
Breakfast: 6: 00 am – 11: 00 am
Lunch: noon – 5 pm
Dinner: 7 pm to 11 pm
What does Premium include at Barcelo?
Barcelo General Questions

Frequently Asked Questions

The check-in time of the Barceló Bávaro Palace is from 15.00, while the hotel departs at noon. In addition, our guests can continue to enjoy some of the hotel facilities after check-out.

Does the Barceló Bávaro Palace offer food and drink options for guests with intolerances to food?
Yes, the Barceló Bávaro Palace offers food and drink options for guests with intolerances to food.

Does the Wi-Fi connection come with an additional cost at Barceló Bávaro Palace?
Guests of Barceló Bávaro Palace can enjoy a free Wi-Fi internet connection.
In which languages are you addressed at the reception of the Barceló Bávaro Palace?
The reception team at Barceló Bávaro Palace will be delighted to assist you in the following languages: English, German, French, espanol and Italian.
Does the Barceló Bávaro Palace hotel have room service?
The Barceló Bávaro Palace has room service for hotel guests. In the hotel you will find all the information you need regarding our food and drink options for room service, along with prices, hours, and more.
Is the breakfast at the Barceló Bávaro Palace included in the guest's accommodation?
Yes, the breakfast at the Barceló Bávaro Palace is included in the hotel guests' accommodation.
What is the minimum age for entry to the spa & wellness area at Barceló Bávaro Palace? Do the spa facilities have an additional cost for hotel guests? Are children allowed in?
The minimum age to access the spa & wellness area at Barceló Bávaro Palace is 16. Access to the spa comes with an additional cost for hotel guests. Consult our rates.